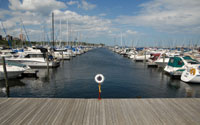 Once you've decided how to spend your vacation and have chosen a destination, InterPlex Chicago will take care of all your transportation needs and make sure you enjoy your holiday.
Interplex offers car hire, chauffeured towncar and shuttle service between O'HARE Intl Airport (ORD) and all of Chicago area's Marinas, Ports, Harbors, and Ferry Terminals such as Nicholson26, Anita Dee Yacht Charters, Anita Dee Yacht Charters, 31st Street Harbor, and 59th Street Harbor and any others.
Simply position your cursor over the relevant price-cell, follow the link, and proceed with confidence to book your trip online!
If you have any questions or need additional information, please feel free to contact us at
1-888-255-9209 or use
- All prices in

USD

.
- Prices are per vehicle.
- Prices do NOT include driver's gratuity (tip).
- Service Charge of 20% will be added for all limousines and specialty vehicles services.
- All rates subject to change without prior notice.
- For Cancellations and other questions please refer to "Terms & Conditions"